Expert Tips for a Bike Trip
Planning a Multi-Day Bike Tour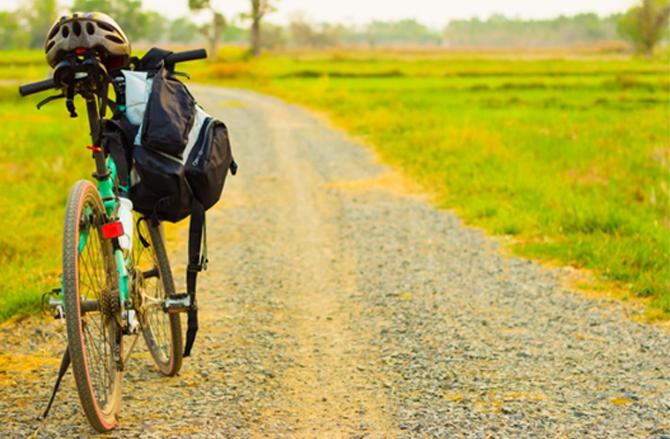 Take a break from everyday life and venture into nature. From the perfect route to the necessary equipment: Our expert on bike tours, Martin Moschek, will tell you what you should pay attention to when planning a multi-day bike tour.
Enjoying the warm summer sun or winding along paths in colourful autumn forests - there's no wrong season for a bike tour. But no matter when and where you go, the right planning is essential for a successful tour. Find out how to prepare yourself and what you need to consider along the way.
Tips from the expert: Martin Moschek reveals what matters
The enthusiastic hobby cyclist Martin Moschek reports from his bike tour Biketour Global blog about his exciting trips all over the world. Since 1991 he has been on the road and has travelled 47 countries and over more than 58,000 km. In an interview, he sheds light on how to plan a cycling trip of several days.

A longer bike tour needs to be well thought out. The right preparation and planning will determine the bike tour's success.
"When I start planning depends mainly on the type and length of the tour. For tours up to 1 week, I usually start 2 days before to think about what the route should look like and what I will pack.
So you don't need much preparation for these short tours. If I plan on doing larger tours, then I usually start 6 months in advance to plan the destination and route. Then I usually start to research the journey and measure the route more precisely in order to plan the required time. I pack the day before and then I'm off."
Choosing the right route
The question of where to go is the most important. Different regions present different challenges. Choosing the appropriate route is dependent on your fitness level and your bike's ruggedness with different road surfaces.

No matter where the journey takes you: inform yourself in advance about the route.
Particularly on tours with children, you should make sure that there are cycle paths or that the route leads through areas with no traffic.
Mr. Moschek tells us which other criteria influence the choice of route:
"Often there is only one route, but I look to see that it does not go along big main roads, but more through the country. Of course one plans the route to go from A to B. Often I also find the route that goes by places worth seeing or scenic landscapes."
Particularly on cycle tours lasting several days, the ride length will determine accommodations and where to stop for the night. Route destinations should be adapted to the route according to your personal fitness.
"How much distance you manage in a day depends entirely on experience and motivation. I keep in mind how far I feel like biking. On larger bike tours, you shouldn't spend too much time planning - plans usually change anyway.
I plan my trip in kilometres per day. That's between 80 and 130 km per day, depending on the condition of the road and the terrain. How long it takes depends on my condition and the weather".
Navigating Correctly
No matter where you go, good navigation is crucial for a successful ride.
Thanks to the altimeter and distance meter in Google Maps, routes can be planned quickly and easily in advance.
Practical smartphone mounts for the handlebars let you navigate on the move and save purchasing an expensive navigation system.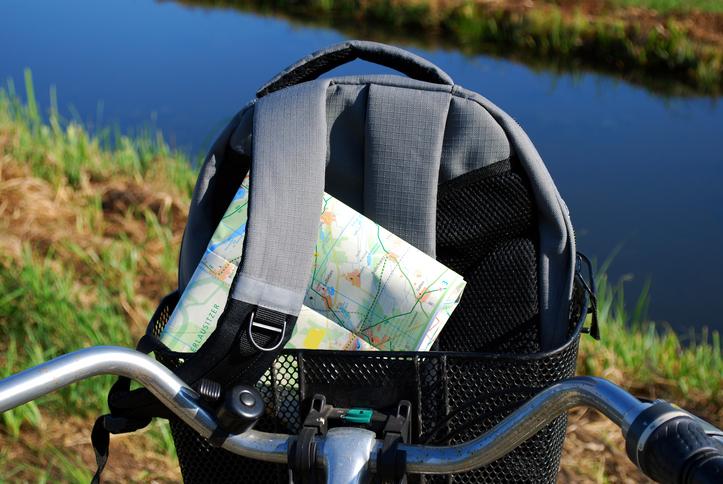 Plan B - When the weather doesn't cooperate.
One problem with planning a tour is not knowing the weather in advance. Unexpected showers or prolonged periods of rain can quickly thwart a plan. You should always have a plan B ready just in case.
"Rain and snow are no reason not to go. Riding is then just different. A violent storm will likely mean an early end to the day. On Iceland, I stopped for lunch and waited until the weather calmed down again. When cycling in areas known for bad weather, make sure to give yourself extra days as a buffer. So for my Patagonia tour in spring 2017, I planned two days as a buffer for bad weather."
Give Yourself a Breather
Be sure to give yourself days to sit back and rest. This helps you recharge your batteries and gives you time to take in the sights and other cultural highlights of the trip. The challenge is to create an optimal balance between recreation and riding.
"I don't plan my breaks; rather, the body tells me when it wants a break. A bike tour is not necessarily exhausting. It's not a tour; not a race. That is sometimes exhausting and sometimes not. Basically, biking should be fun. That's the point, right?
On longer breaks, I visit places of interest, replenish my supplies, wash my clothes, check the bike and equipment and surf the internet.
On Iceland, I climbed a glacier. In Tibet I visited Lhasa. In Patagonia, I plan to visit a big glacier and a national park."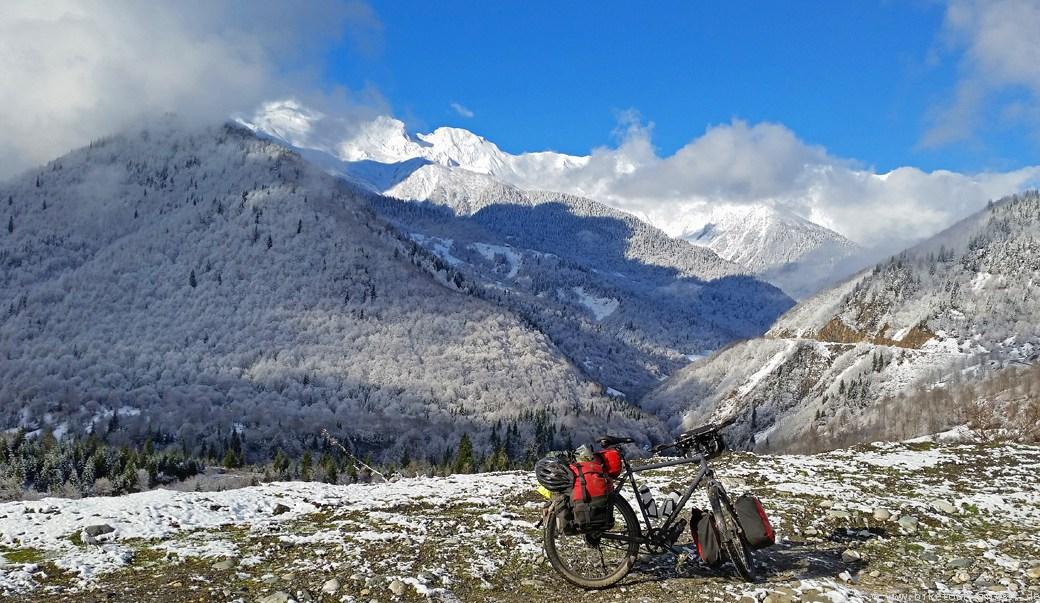 So that you don't have to struggle to find a suitable hostel when dusk falls and pay overpriced rates, you should thoroughly plan the number and duration of your overnight stays in advance and find and compare appropriate hotel offers or campsites.
"Ninety percent of the time I camp, either at a camp site or in the woods. The other 10%, I spend in hostels. There are countries where camping is not a good option, but where there are cheap rooms for 5 dollars. In Germany, I always camp".
Be Prepared: The Right Clothing for Every Weather
The layering principle, putting on many layers and taking layers off as needed is perfectly suitable for cycling.
Thin functional underwear quickly removes moisture and keeps you from freezing when you sweat. Depending on the temperature, you'll want one or more layers of outerwear, such as a T-shirt or a thin sweater. The top layer should be a jacket made of a water-resistant, breathable material that protects you from both wind and rain.
With our online product designer, you can design your individual and professional sportswear in no time at all. Choose the design, colour and lettering you want and show everyone on the track what a great team you are.
The length of the bike tour determines how many bags you should take with you. If a simple backpack is enough for a day trip, you should upgrade accordingly if you are planning a cycle tour lasting several days.
The combination of saddlebags and handlebar bags has proven its worth. The correct weight distribution is decisive for riding comfort. Martin Moschek advises us as a rule of thumb:
"Heavy stuff goes on the bottom. Distribution should be 60% at the back and 40% at the front."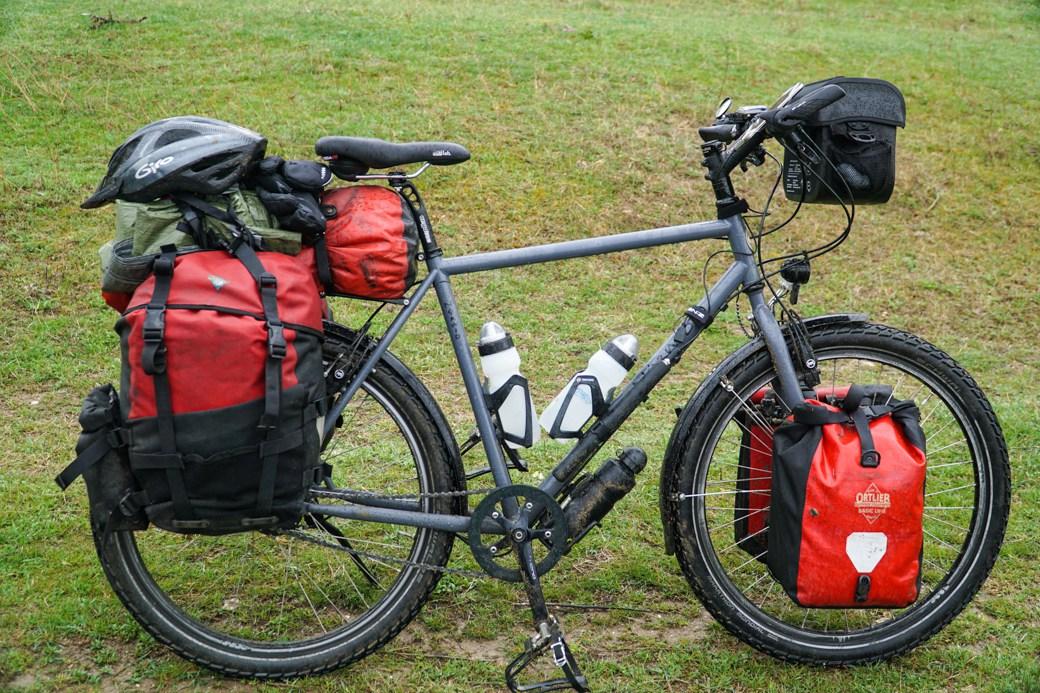 What Should I Pack?
Whether beginner or experienced, you need to put special thought into packing. For group bike tours, you can split up the load between riders. Each rider should pack their own essentials, like money or phones.
"I have a separate packing list for each tour. Even though I actually know what I'm taking with me, it's part of the preparation ritual to make a list and then check it off.
I've optimised my approach over the years. I always ride with approx. 15 kg minus food and water.
My newest addition to my pack is a small cooking stove. It's more of an unnecessary luxury item, though.
I'm always sure to bring my Leatherman, which I bought in Kathmandu in 1998 on my tour from Germany to India. In addition, I always include my 20 year old cutting board, which has seen better days, but still serves me well.
And of course I never forget my touring book. At the end of the day, I write about my experiences on that day and make notes. The tour book is the most important.
The Maintenance Check
Adequate preparation for a bike tour must include a bike check, regardless of the length.
Noticing problems before they occur on the trail can take up valuable energy and time during a cycling tour. Your and other's safety is on the line.
Squeaky brakes, rusty chains or a poorly adjusted seat should be repaired and corrected in advance – a safety test before the start of the ride saves time and energy.
If you want to be on the safe side, take your bike to a specialist. Especially when it comes to multi-day tours, you'll thank yourself.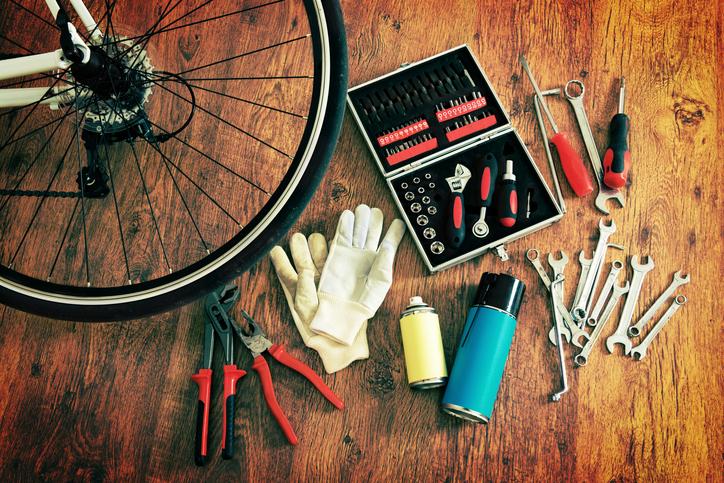 Now get out the bike map and start planning. With our tips, nothing can stand between you and your trip. We thank Martin Moschek for the tips and tricks and wish him all the best.
Images: Cover image ©istock.com/ pong2519, Image 1,4,5 ©Martin Moschek, Image 2: ©istock.com/ piola666, Image 2: ©istock.com/ totalpics, Image 3: ©istock/ mihtiander, Image 6: ©istock.com/ humonia