Details

Designs

Prices and Lead Times

Sizes
CP2 Sport Cycling Shorts
The CP2 Sport cycling shorts are the perfect for novice cyclists new to the scene. The shorts provide you with a comfortable and athletic cut that allows a full range of motion, so you can focus on cranking into the pedals. We specifically made sure to reduce the amount of seams on the inside and outside thigh to maximise the customisable area while providing supreme comfort.
1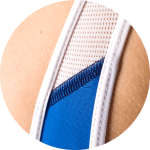 Highly Elastic Bibs/Suspenders
The highly elastic shoulder straps ensure a soft feel and maximum comfort
2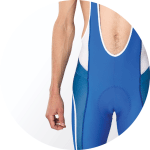 Tight Fit
Athletic fit perfectly tuned to a typical riding posture
3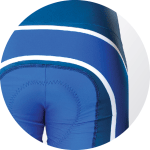 U-Panel Customsation
Customisable U-Shaped Panel covering both the sides and the rear.
4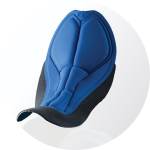 Race-Pad xlastic
Anatomically shaped athletic gender neutral pad, made of multi density foam and with an extremely smooth surface.
5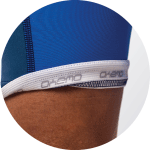 Silicone Gripper
Hem with integrated silicone gripper for a perfect fit
6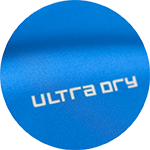 Ti-Tex ultra.dry xlastic
Very elastic, leightweight and soft material for maximum comfort and temperature control
7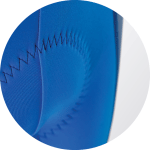 Resilient Seated Area
The seat ares features robust materials for added durability.
8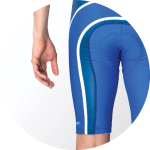 Minimum Seams
Seamless inner leg construction for maximum comfort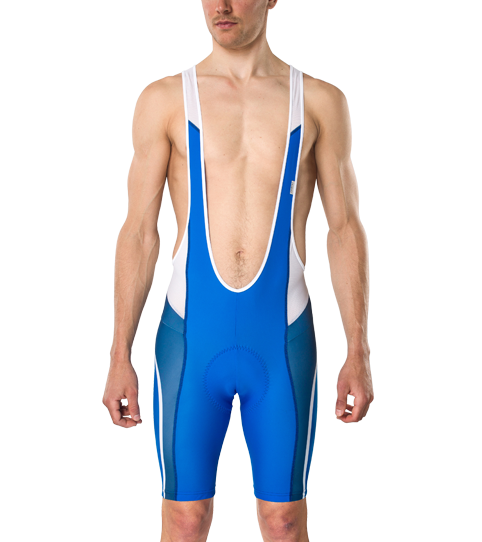 Front View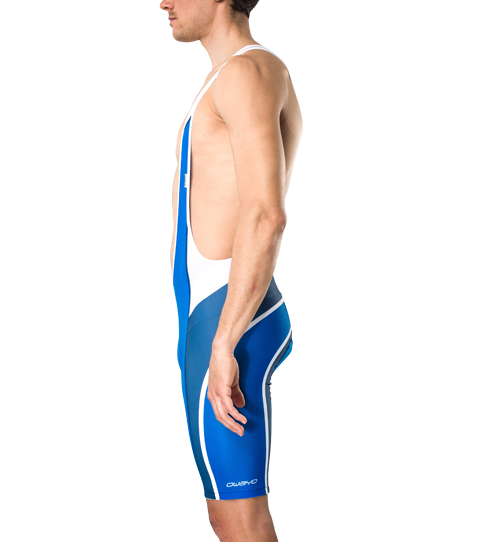 Side view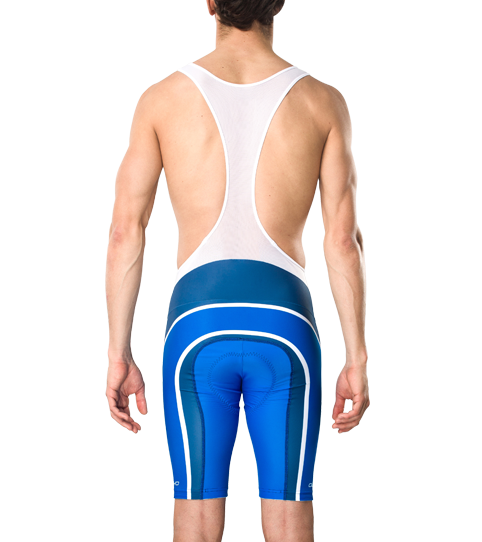 Back View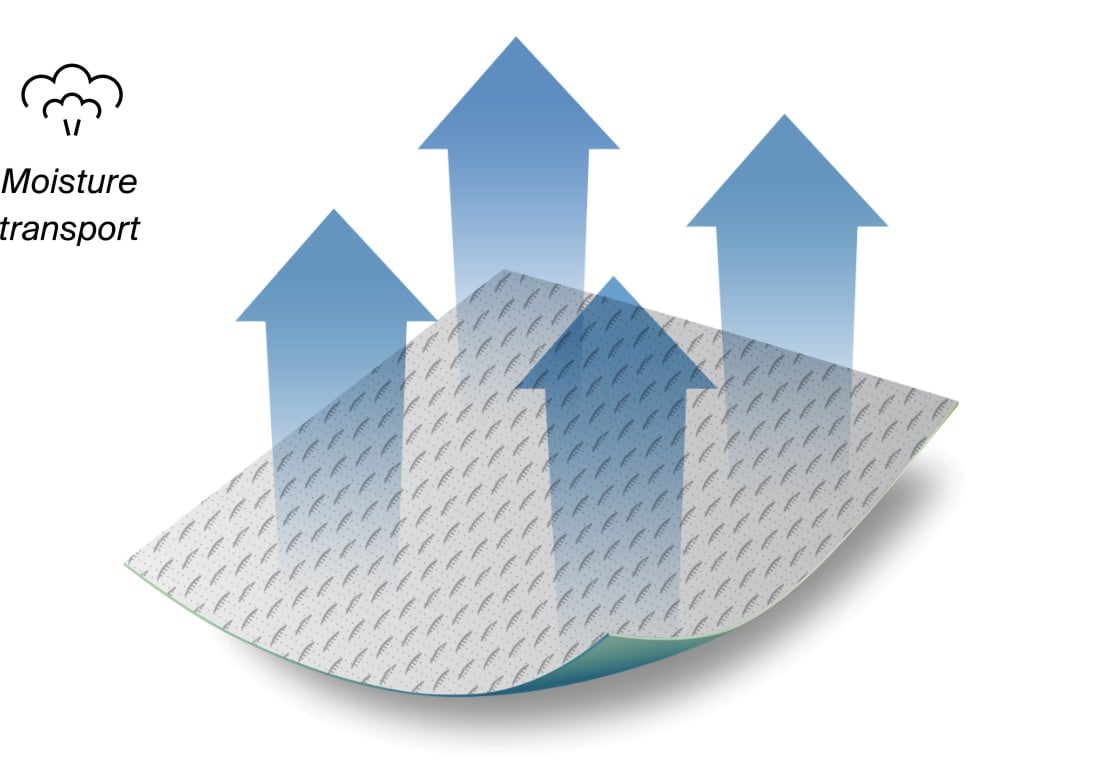 Persperation and moisture is wicked away from the body and evaporates away from the body keeping you cool and dry allowing you to maximise your performance.

Moisture transport



Natual Wear & Tear (Fabric Pilling)
Fabric pilling is the formation of small fuzzy balls on the surface of the fabric. This is not due to the manufacturing process and is therefore not considered a 'defected product'. The fabric surface in this area has had frictional contact with a harder material.


How to Minimize Wear & Tear
Pay attention as to not ride with a saddle that is rough or ripped in any areas. A well-known cycling short destroyer is velcro (e.g. many saddle bags have velcro fasteners ). Continual contact with velcro on almost any fabric is best avoided as this rough material destroys most all fabrics.
Design Overview
Whether classic, futuristic or simply crazy, we offer over 10 design templates so you'll be sure to find just what you are looking for. Make any design your own by changing the colours and adding texts and logos - all included in the price! Looking to create a completely unique and one-of-a-kind design? We're happy to help. Take advantage of our design service.More...
Designs Cycling Shorts CP2 Sport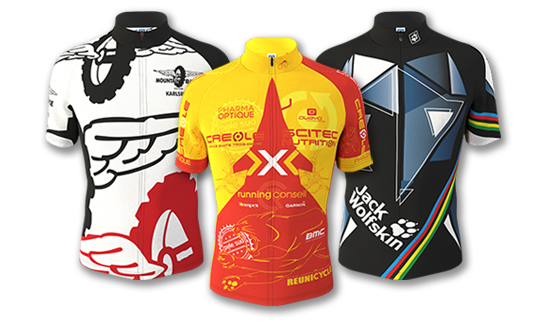 Custom templates
Would you like to order a special design that can't be created using our 3D Designer?
Then use our Special Design Service
Prices and Lead Times
The price of your individual sportswear depends on the quantity ordered of a product. Prices for reorders are cheaper than initial orders. The prices for reorders can be found in a seperate table, below.
Cycling Shorts CP2 Sport
includes all Colours, Text and Logos. Ti-Tex, Race-Pad, with bib straps
Quantity
Regular Production Time
Unit Price
Express Production Times
Unit Price
1 piece
£82.32
Upon Request
2 pieces
£73.92
Upon Request
3 pieces
£64.68
Upon Request
5 pieces
£57.96
Upon Request
10 pieces
£51.24
Upon Request
20 pieces
£47.04
Upon Request
35 pieces
£43.68
Upon Request
50 pieces
£40.32
Upon Request
100 pieces
£36.96
Upon Request
ReOrders
Quantity
Base prices for reorders
Unit Price
1 piece
£66.36
2 pieces
£63.00
3 pieces
£59.64
5 pieces
£56.28
10 pieces
£51.24
20 pieces
£47.04
35 pieces
£43.68
50 pieces
£40.32
100 pieces
£36.96
United Kingdom Shipping
Shipping Options
Freight Times
Business days
Cost
Per box
Economy up to 2 Kg
2 - 3
€ 10,00
Economy
2 - 3
€ 15,00
Priority
1
depending on weight
United States Shipping
Shipping Options
Freight Times
Business days
Cost
Per box
Economy up to 4.5lbs
3 - 5
$10.00
Economy more than 4.5lbs
3 - 5
$15.00
Priority
1 - 2
depending on weight
European Union Shipping
Shipping Options
Freight Times
Business days
Cost
Per box
Economy up to 2 Kg
1 - 4
€ 10,00
Economy
1 - 4
€ 15,00
Priority
1 - 2
depending on weight
Global Shipping
Shipping Options
Freight Times
Business days
Cost
Per box
Economy
3 - 7
depending on weight
Priority
1 - 4
depending on weight
Payment in Pounds Sterling
We accept payment in British Pounds Sterling. Although our prices are based on the Euro, payment is accepted in GBP through a pre-determined exchange rate. Please click the blue title-box below and the price list will be converted.
Exchange rate:
€1.00 = £0.84

Due to possible fluctuations in the market, owayo retains the right to set the exchange rate accordingly.


Convert price list to EUR
Current delivery time
Regular Production (3 weeks) Express Production (at least 1 week)
Click below to find out more about our current lead time and our express production options

Click Here For More Information
Price Estimate
In order to receive a personalised price estimate with the exact products, features and quantity you'd like.

Price Estimate
Price lists for other countries
Reorders Are Easy
We keep your designs on file indefinitely, so you can place reorders at any time. Reorders of small quantities are less expensive than initial orders.
Cumulation System
When ordering 15 of one variation and 5 from another variation of the same product, you will receive the unit price for 20 items. For the unit prices to cumulate, you must order at least 5 of each variation.
All texts and logos included in base price
Our prices include free choice of design, colour, texts and logos – with no hidden costs. This clear cut pricing allows you to easily calculate the cost, despite having multiple inscriptions.
No minimum order quantity
owayo also manufactures single orders, complete with your logos, designs and colours. Small orders do have high fixed costs, yet are still possible for just one item.
Express Production
Standard production is approximately 3 weeks. A faster turnaround may also be available for an additional surcharge. Please ask to find out about our current express production capacity.
Payment Methods
When placing an order, we only accept full payment in advance either via BACS, Credit Card or cheque (for UK customers only).
Club and School Rewards Programme
The Club and School Rewards Programme allows registered clubs discounts of up to 20% - without any obligations. Read more about the Club and School Rewards Programme.
Finding the Right Size
We strongly recommend you order samples before ordering to find the size that best fits you. If you do not have enough time to do so, you can use our size chart to find your size.

Cycling - Cycling Shorts CP2 Sport
| owayo size | XS | S | M | L | XL | XXL | 3XL |
| --- | --- | --- | --- | --- | --- | --- | --- |
| Seat circumference (B) in cm | 82-90 | 90-98 | 98-106 | 106-114 | 114-122 | 122-130 | 130-138 |
| Seat circumference (B) in inches | 32¼ - 35½'' | 35½ - 38½'' | 38½ - 41¾'' | 41¾ - 45'' | 45-48'' | 48-51¼'' | 51¼''-55'' |
Find your owayo size by comparing your measurements to our size chart. This chart also includes international standard letter sizes for reference.
Between two different sizes? If you like a looser fit, choose the larger size. Do you prefer your athletic wear to fit a bit tighter? Then pick the smaller size.
If you are feeling unsure, our customer service team would be happy to help you. Give us a call at
+44 (0) 2037 524966.
CP2 Sport Cycling Shorts has maintained an average of 4.8 out of 5 stars throughout 1067