Quality - the material is great, super light and breathable Fit - there were many options to choose from, if anything they may have run a little large but they feel good Ordering - quick and easy, even though I messed up the addresses, it was simple to fix Coloring - colors are clean and clear I sent an email after hours on Friday and it was responded to first thing on Monday morning. All my interactions were friendly, and seemed competent. The pricing felt a little high, but ordering in bulk helped by reducing it by a large amount, and the quality is also really good.
09.09.2021

Website and designing of the hockey jersey was excellent! Shipping was quick and on time! Product looks and feels amazing!
03.09.2021

Thank you Frank for all your help in the ordering process. Excellent service
03.09.2021

Process of ordering was brilliant. Product quality is excellent
30.08.2021

T. was extremely helpful through the ordering process - despite many hurdles we hit with problems with our artwork. It was frustrating that our EPS files couldn't be opened as other companies we've worked with haven't had problems with this but we got there in the end and T. was very transparent throughout. The jerseys look absolutely fantastic. A little put off by the fact we'd have to pay another £50 artwork setting up fee for both MTB and road long sleeved jerseys and kids jerseys in BOTH our colourways.
24.08.2021

owayo response:
Thank you for your feedback! The designs you submitted are Special Designs, with unique elements and graphics not anything like our owayo designs in the kit designer. Please understand that adapting a design to a specific product requires extensive amounts of work. Different products or design changes add a lot of work to this process and have to be taken into consideration with the overall cost. Extra design fees do not apply to designs created with our 3D Designer.
The fit was spot on, and the material is comfortable. The front logo appears very slightly off-center, but that could just be a limitation on the design site. Otherwise, very pleased with the product.
11.08.2021

Order was received very quickly thank you
06.08.2021

Excellent product! I will be ordering again in the future
05.08.2021

Excellent process from beginning to end - clear, simple, quick and the quality of the product is excellent. Thank you!
05.08.2021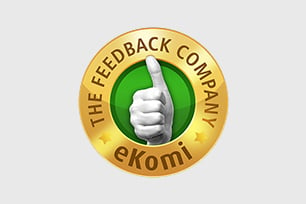 About eKomi
eKomi's goal is to track authentic customer reviews of various products. They offer a unique platform where consumers speak to one another based on personal experiences, and thus helping consumers identify reputable online businesses. We have been reviewed by eKomi since 2011 and have no influence on the ratings and feedback provided by our customers. Our customer feedback speaks for itself.