Excellent communication and service, very friendly and helpful
17.08.2018

I was surprised at how quickly my emails were responded to and it was always clear communication.
04.08.2018

Service was incredible. Edwin did an awesome job replying to my questions and concerns. Ordering was easy, and the 3D design maker was really awesome. Will use again for next year!
31.07.2018

Quick shipping - very good customer service, ordered an item from a previous over from over a year ago. Still had all of our colours and designs stored. Quick responses via email.
23.07.2018

I have worked with Edwin on previous orders and he is outstanding. Very responsive to requestes and his a attention to detail is second to none. This level of customer service is hard to come by these days.
11.07.2018

The only thing that would be better if once you started with one rep you continued to work with that rep. No issues with the order just would make you feel like you had someone to ask questions to.
10.07.2018

owayo response:
Dear Customer, Thank you for your feedback. Ideally, each designer stays in touch with his or her accounts. This is not always feasible due to holidays or sickdays. Nevertheless we hope that you enjoyed the experience ordering with owayo.
The employees here are super knowledgeable and very friendly. They go above and beyond expectations.
05.07.2018

Everything was excellent. Your communication was swift, knowledgable and thoughtful. I sent my design in for assessment, and it was returned swiftly too. Very pleased! I will definitely recommend Owayo to other people. My only minor bug was the price. I only ordered three items but did feel that the cost could have been slightly cheaper. I just wish I had more people who committed to buy one!
28.06.2018

Everything about the process of ordering the jersey was easy. I felt supported the entire way and I cannot recommend this company enough. I've already plugged the service on my podcast and have given out the website link to those interested in creating their own jerseys.
26.06.2018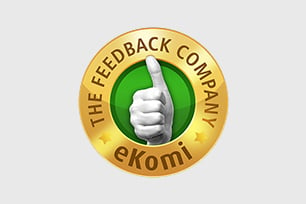 About eKomi
eKomi's goal is to track authentic customer reviews of various products. They offer a unique platform where consumers speak to one another based on personal experiences, and thus helping consumers identify reputable online businesses. We have been reviewed by eKomi since 2011 and have no influence on the ratings and feedback provided by our customers. Our customer feedback speaks for itself.